Bike crate cover
Nowadays bike crate covers are getting more and more popular. We understand why! The bicycle crates (or box crates) are very handy to carry and transport your groceries or gym bag for instance.
Do you prefer to bring these home dry and undamaged? Then we suggest to use our original Bike crate cover! Have a look at our trendy designs which we offer in two different sizes.
View our bike crate cover collection
Size M: Bike Crate Cover M (L40 x B30 x H18)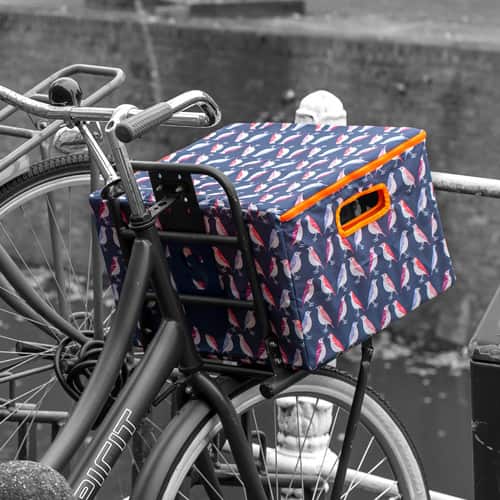 BikeCap's crate covers
A cover for your bike crate is a real must have these days. When you can choose one of the BikeCap dessins, it's a definite need! Trendy, fun and lots of variety to choose from. You will not be unnoticed having such a pretty cover on your bicycle box!
No problem finding your bike in a crowded area like the school grounds or at the train station. Very handy and practical as well.
None of us like their bags to be soaking wet after a bike ride, so get yourself a great cover for your bicycle crate and no more 'weather 'worries for you. Your belongings will remain in perfect condition while covered by the BikeCap Box Crate Cover. Ready for you to be ordered here!
View all of BikeCap's Crate Covers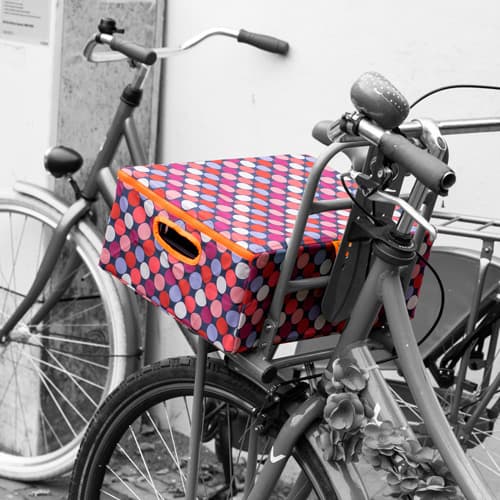 Let's not forget the children's bikes!
We offer bike boxes in two dimensions. The size M -which comes with a crate included- and the XL size cover. This medium size (L40 x W30 x H18 cm) works well on childrens' bicycles and can be used on the rear rack of an adults' bike, when you prefer a smaller size. The XL size (L43 x W35 x H28 cm) is very suitable for adults' bicycles.
The collection shows a wide variety of dessins that are created by the BikeCap specialists. Have a look and find your personal best or better, find that one that suits your bicycle best.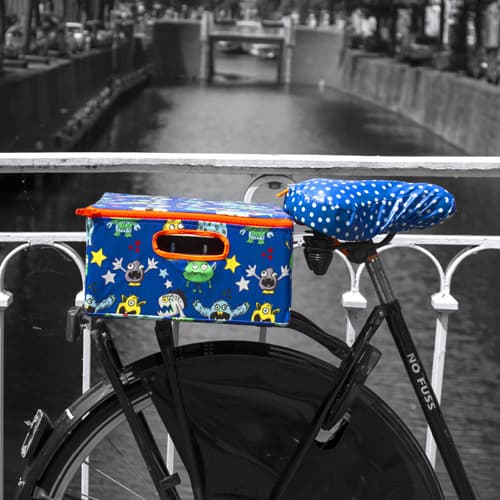 Crate cover; trendy in the rain
A bicycle box cover looks stylish even though it's raining. The bike crate covers can be applied in a blink of an eye. The zip closure ensures a perfect fit. It will stay firmly in position, so no worries of losing it.
The M size covers are offered with a foldable box crate included. Combine the XL crate cover with a BikeCap great quality bike crate that we offer in black or orange colour and you are ready to go!