Bike Seat
BikeCap brings a new bicycle cushion to the market! The familiar seat pads are upgraded to a more luxurious version; these BikeCap kids bike seats.
The sturdy, soft matrass for the pannier, is now extended with a comfortable back matrass offering plenty of back support. This seat brings relieve to the bottom as well as the back against the bumpy streets, as it reduces the harsh shocks.
Take a look at our new designs we created for this bike seat for children. Pick your favourite! Looking for your bike in a crowded bicycle stand was never easier! The BikeCap prints are real eyecatchers.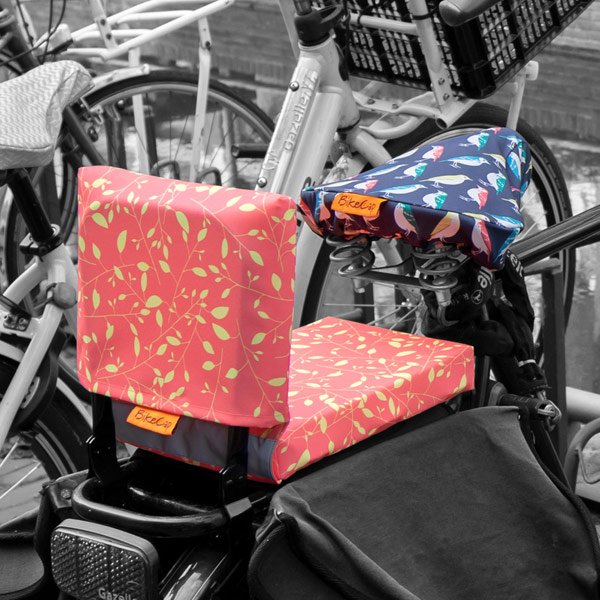 Kids bike seat by BikeCap
Do you own a bicycle with a metal frame at the end of the rear rack? This metal frame is getting quite uncomfortable for your co-rider after a while. BikeCap created a comfortable solution to this problem; the kids bike seat. Bumpy roads and uneven pavements are so much easier to overcome when you sit on matrass filled bike seat.
The dimensions are: Rear seat section L26 x W18 x H4 cm. Back support section L18 x W23 x H2 cm.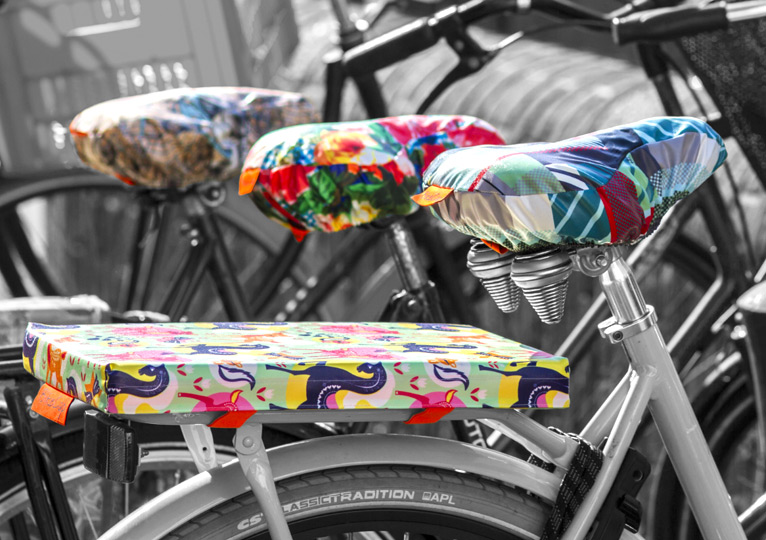 Stylish and practical; the bicycle cushion with back support
The BikeCap kids bicycle seats can be easy applied by sliding the cushion on to the metal frame, after which the orange Velcro straps will help you to fasten the seat cushion on to the rear rack of the bicycle. Now the bike seat is fixated strongly and ready to go.
If you don't have a metal frame for your rear rack yet, we suggest you to go to your local bicycle store. These frames are easy to install and shouldn't cost much.



Reflective strips enhance visibility in the dark – safety first
The backside of the BikeCap bicycle seats are enriched with a reflective tape. Firmly stitched on to ensure a durable construction. Improving the ease of cycling is what we aim for and safety is a very important aspect. The headlights of the traffic coming from behind will light up the reflective tape. Adding an eyecatcher to improve visibility when it's dark.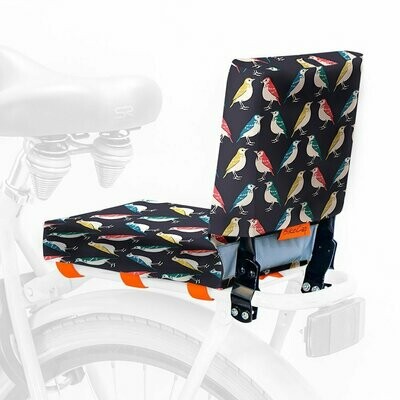 Complete this kids bike seat with a BikeCap bicycle bag
Would you like to combine your bike seat with a stylish bicycle bag? Than please have a look at our new BikeCap bicycle bag! Specially designed to use combined.
The upper section of the bike bag is designed with strong woven tapes that are stitched down. The BikeCap bicycle seat can easily be attached with the use of the Velcro bindings underneath. Either go for a stylish combination in 1 design repeat or choose for a totally different one. It's up to you. BikeCap can help you create your favourite set.