Rainhat
A rainhat protects your face and hair against all kind of weather conditions. The elastic trim ensures a perfect fit. The hat will remain firmly in position during any bicycle ride!
Available in two sizes:
M for head circumference 55 – 57 cm
L for head circumference 57 – 59 cm
Beside these rain hats for adults BikeCap also has kids size rain hats in store. Also in two sizes: M for head circumference 55 – 57 cm and S for head circumference 53 – 55 cm.
Perfect fitting, great print!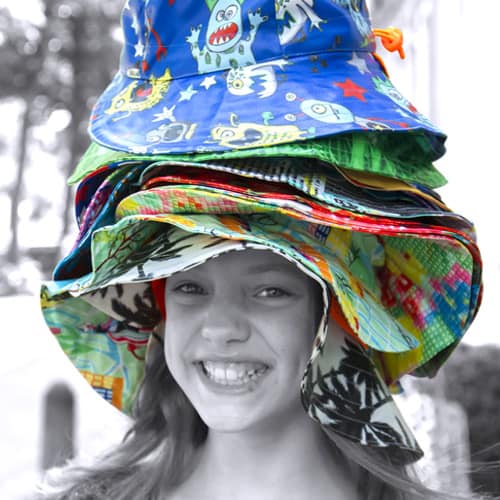 BikeCap's rainhat
The BikeCap sou'westers are functional as well as fashionable. First of all will these lovely hats protect your hairdo and face against though weather conditions like rain, hail, snow and though wind. We've chosen a strong woven material which has a special feature that repels water and will block out the wind. A comfortable material to wear during these harsh weather conditions.
Secondly we've designed these hats to be stylish and fashionable as well. The variety of prints will give you the opportunity to pick your personal preference. This BikeCap sou'wester will make you cheerful even when the weather is not.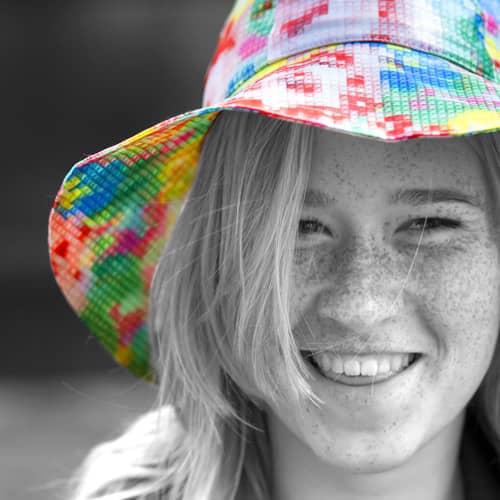 Rainhats for women, men as well as kids
The elastic trim will perfection the fit to your personal size. Your rain hat will look wonderful on you. No worries of losing it, as it will not get blown off. Just enjoy your ride! Check out our collection and see which dessin has your preference.
For children we've developed a BikeCap sou'wester as well. The kids rain hat fits perfectly and is available in lots of nice prints. Have a look!
Buy those lovely BikeCap rain hats
We offer our rain hats in a wide colour range of lovely prints. All of them have that unique BikeCap style. You can still be fashionable in the rain wearing one of these! Check out the collection and find your personal BikeCap look!